Dear Parents/Guardians,
Thank you for your continued support of our STM Lenten Project 2019 "WE CARE". Our staff and students have been engaged in rich learning tasks about reducing the use of "single use plastics" and the impact plastics are having on our oceans and water systems throughout the world.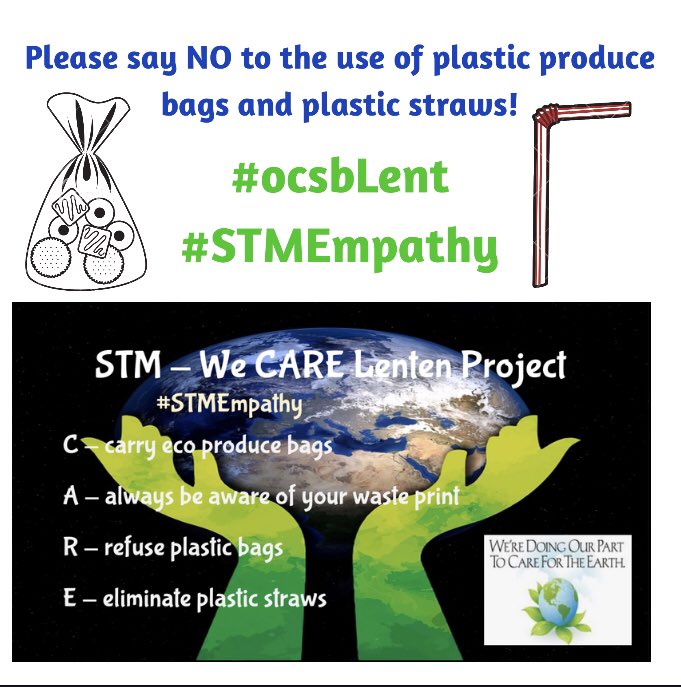 We had hoped to be able to sell ECO produce bags and reusable straws during our Lenten campaign. We were in dialogue with several bulk Canadian distributors for these products, unfortunately we were not able to make these arrangements for our school community. Many bulk distributors have these products on back order and delivery in a reasonable time period could not be guaranteed. This is actually great news for our environment! The increase in public awareness about the danger of plastics in our oceans is having a huge impact. The demand for reusable and earth-friendly products is on the rise, which corresponds so well to the goals of our STM Lenten campaign. 
We encourage you to consider buying ECO produce bags and reusable straws for your family. This will reduce your "Waste Footprint" and it is a tangible contribution you can make to saving Planet Earth!     
These products are readily available in a variety of locations. Here is a list for your consideration for these purchases:                      
NU Grocery  https://nu-grocery.myshopify.com/
Terra 20  https://terra20.com/
Green Earth  https://www.greenearthstores.com/
GreenMunch https://www.greenmunch.ca/
Amazon Canada  https://www.amazon.ca/
Thank you so much for your continued support of our STM Lenten project "WE CARE". Your dedication and commitment to our school's environmental initiatives are appreciated! Together we can CHANGE the world!
With appreciation,
Ms. Gotell, Mrs. Gamache, STM ECO Club and STM Social Justice Club